After thriving through the uncertain times of 2020, 2021 set us on a path to achieve greater heights. The year marked a time of realignment and deepening of our commitment to the African technology and startup ecosystem. We acknowledge and appreciate all our partners who continued on this journey with us and are grateful for the remarkable work that our various units and teams at MEST did to achieve the many milestones of this year.
Notable among them was the reopening and extension of applications for the 2022 Training Program. Regardless of the delays and the extension of the application process which saw over a thousand people apply from Ghana and Nigeria, we are excited to welcome 53 outstanding individuals into the 2022 MEST Africa Training Program.
Other flagship programs like the MEST Africa Challenge and MEST Africa Summit were also put on hold this year due to the pandemic. But this made way for us to engage and support even more entrepreneurs across the continent while continuing to support the growth of our portfolio companies.
Our portfolio companies have shown a lot of resilience and keep innovating throughout these uncertain times. We are very proud of all they have achieved this year and send a special shoutout to the following companies who achieved some major successes this year:
Complete Farmer, Leti Arts, Kweza, Tendo, Judy, BezoMoney, Shopa and Wiflix
The growth of our portfolio companies has also been supported by our amazing partners.
Other significant highlights for this year include: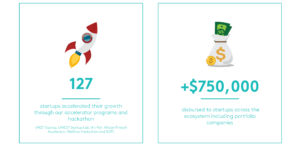 We continued to work and impact the ecosystem alongside partners such as Mastercard Foundation, UNICEF, GIZ, IFC, The European Union, Care International, Africa Development Bank, SANAD and Danida.
We launched MEST Scale, a venture accelerator focused on enabling SMEs in Ghana to scale.
In partnership with the Mastercard Foundation and leading innovation hubs in Ghana, we've expanded our program reach to Wa, Tamale, Takoradi, Kumasi, Bolgatanga, Cape Coast and Ho
We had the opportunity to work alongside some ecosystem players on the Digilogic Africa, Smart Cities Innovation Programme, AFDB Business Development Services, and WeGrow Hackathon projects.
We partnered with the French Chamber of Commerce Ghana to bring together innovative startups and leading corporate organizations to foster more corporate-startup partnerships.
Our impact in the ecosystem led to a feature on CNN as one of the organizations contributing to Ghana's rising tech scene.
As a result of all the work, we have also welcomed a cohort of new entrepreneurs into our community for a lifetime of growth, support, and access.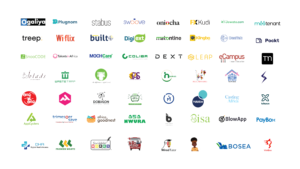 As was earlier announced, I will be transitioning from the Managing Director position to become a Portfolio Advisor at MEST while I pursue a new fintech company. My 6+ years at MEST have been truly rewarding and have also influenced these next steps in my growth journey. I look forward to continuing to support our founder Jorn Lyseggen, the rest of the leadership team, and our entrepreneurs.
For the team at MEST who bring it all to life, one thing has stayed true; the passion to strive for and achieve the highest possible standards together. I appreciate you all.
Enjoy this holiday special from the MEST family. Happy holidays!
– Ashwin Ravichandran(Outgoing Managing Director, MEST Africa)
https://meltwater.org/wp-content/uploads/2021/12/unnamed-scaled.jpg
2048
2560
Ashwin Ravichandran
https://meltwater.org/wp-content/uploads/2021/03/logo-mest-color-2.png
Ashwin Ravichandran
2021-12-22 09:49:29
2021-12-22 21:20:11
Our 2021 in Perspective