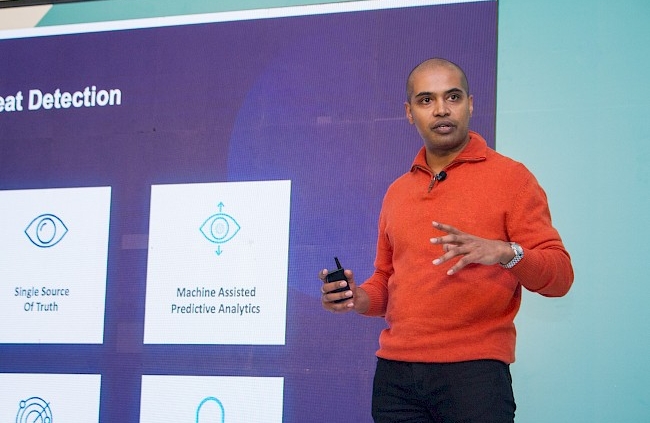 This article is part one of a three-part series focusing on the 2019 MEST Africa Challenge winners.
This year, the annual MEST Africa Challenge competition selected ten top South African startups to pitch their businesses to a board of local judges for the opportunity to compete in the finals at the MEST Africa Summit 2019. Snode Technologies, a cybersecurity and intelligence business that leverages mathematics to analyze data in real-time at scale, was selected as the country's winner and joined us in Nairobi earlier this month.
Nithen Naidoo, Co-Founder and CEO of Snode, competed against the other finalists from Ghana, Nigeria, Kenya, and Côte d'Ivoire, and for the first time ever, three of the companies were dubbed winners. Snode, OZÉ (Ghana), and WayaWaya Ltd all received $50,000 in equity investment from MEST Africa and $25,000 of credit from leading sponsor Microsoft.
Keep reading to hear more from the Snode team about their experience as a MEST Africa Challenge competitor, and their plans for the future.
MEST: Why did you start Snode Technologies?
Snode: After years of running a cybersecurity consulting firm, providing assessments to large global enterprises, we realised that the way we defended against cyber-attacks was reactive and ultimately flawed. A more intelligent line of defence was urgently required since traditional detection and defence technologies proved inadequate to dealing with rapidly evolving cyber-attack patterns. Snode leverages advanced mathematical algorithms and the power of learning machines to process large amounts of data. This data then provides insights into prevailing patterns to help identify and combat cyber security threats before a potential breach occurs.
MEST: What inspired you to compete in the MEST Africa Challenge/Summit?
Snode: After our initial success in South Africa, we wanted to expand our business to the rest of Africa. We saw MEST as a potential channel to, not only introduce our brand, but to establish a channel partnership to further explore opportunities across Africa and the globe.
MEST: What you tips to you have for future contestants?
Snode: Act locally, but think globally; build a world-class business fused with African ingenuity.
MEST: How do you intend to use this opportunity to expand?
Snode: We plan to establish channels in growing African markets, such as Nigeria, Ghana and Kenya, providing world-class cybersecurity technology and services.
MEST: Why is pan-African expansion the key to your company's success?
Snode: We view our company and unique cybersecurity technology offering as an African innovation with global potential. We see establishing our presence across Africa as a key milestone on our roadmap to global expansion.
MEST: What is next for Snode Technologies?
Snode: We are looking forward to entering new African markets and working with the many talented cybersecurity teams across the continent.
MEST Africa looks forward to welcoming Snode Technologies to our portfolio and helping them to expand across the continent and globe!
https://meltwater.org/wp-content/uploads/2021/08/mest_africa_summit_ke_2019_day_2-216-1.650x0-is.jpg
433
650
Leila Khalid
https://meltwater.org/wp-content/uploads/2021/03/logo-mest-color-2.png
Leila Khalid
2019-07-05 19:41:00
2021-08-26 20:52:53
MEST Africa Summit 2019 names South Africa's Snode Technologies one of three startups to win $50k