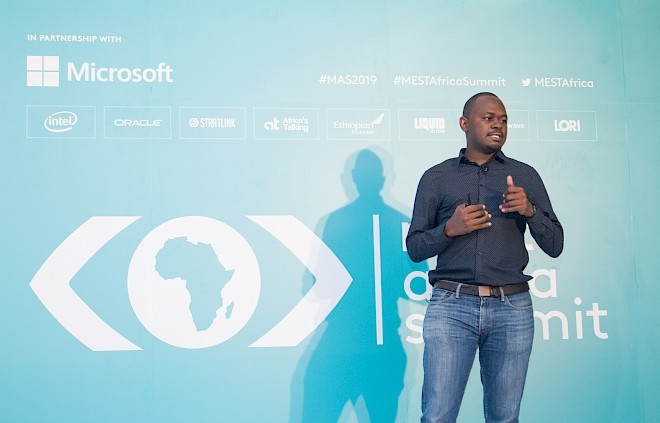 This article is part one of a three-part series focusing on the 2019 MEST Africa Challenge winners.
When applications to the 2019 MEST Africa Challenge (MAC) opened early this year, WayaWaya Ltd was one of the top 10 finalists chosen from hundreds of Kenyan startups. The fintech startup that provides one account to combine your bank, mobile wallet, and SACCO, and makes payments accessible across the world, was named the finalist that would compete in the final pitch at the MEST Africa Summit (MAS).
Teddy Ogallo, Founder and CTO of WayaWaya, went up against the other finalists from Nigeria, Kenya, South Africa and Côte d'Ivoire, and for the first time ever, three startups were named winners of the grand prize. WayaWaya, Ozé (Ghana), and Snode Technologies (South Africa) all received $50,000 in equity investment from MEST Africa and $25,000 of credit from key sponsor Microsoft.
Keep reading to hear more from the WayaWaya team about how being a MEST portfolio company will help them achieve their goals.
MEST: Why did you start Wayawaya?
Wayawaya: I had some experience running another startup that I exited at a time when it was not possible to send cash to anyone in real time across the world or platforms without limitations, based on technology and regulations. Financial solutions were just not capable of efficiently connecting to each other, and they still can't. Transfers then cost more than they should, and I had to have multiple apps for MPesa, banks, loyalty services and remittances. Being exposed to businesses and their pain points also made me realize that as much as businesses evolve ways of getting more customers to use their services, manage their inventories and get capital, they still had major pain points accepting multiple payment options or payments through rapidly growing mass reach platforms like Facebook and WhatsApp. I started WayaWaya as a platform agnostic solution that connects to not only banks and mobile wallets, but also enables access to these services over the most popular communication/interaction channels across borders with just one account. Since then we have been steadily building the team, the experience, the network and addressing the compliance/security requirements to make this a scalable world class solution that can address individuals' and business' needs across the world
MEST: What inspired you to compete in the MEST Africa Challenge/Summit?
Wayawaya: I was attracted by MEST's background of teaching entrepreneurs on the basics needed to succeed. I felt and still feel I am an entrepreneur with a lot to learn on how to efficiently scale and build a business from just an attractive solution for the region to global acceptance. I believe the multi-cultural and wide networks of the MEST team seem to be a sure bet to helping me achieve this. Seeing that MEST has managed growth and partnerships across multiple countries, [I hope] I can use the team's expertise as a template to also achieve the same for WayaWaya.
MEST: What tips do you have for future MAC contestants?
Wayawaya: During the regional finals I had to compete against some contestants who didn't have a Minimum Viable Product (MVP) for market, and I feel they would have benefited immensely from the feedback on the ground. Having tested the market gives you a new perspective and preparedness that no pitch preparation will. Further to that, contestants should continuously work hard to find ways of growing their business rather than waiting for help so that in the space between winning the regional championships and the MEST Africa Summit championships they can show progress
MEST: How do you intend to use this opportunity to expand?
Wayawaya: While we have experienced rapid growth in the last few months we hope to use the MEST network and professionalism to get tips on how to manage and sustain this growth and communication to our current and future customers. We hope to tap into the MEST network for new partnerships/expansion and we will use MEST partners such as Microsoft to ensure our technology is ready to handle the growth in customers and volumes. Individual customers should also expect more direct marketing and communication from the WayaWaya team presenting our transformational products to more people across Africa, the diaspora and travelers.
MEST: Why are you excited to join the MEST Portfolio?
Wayawaya: My experience with the MEST team has been extraordinary; brilliant organizational and execution skills, and they have shown willingness to help me refine the rough edges in our business and its presentation. Most importantly, they have a diverse and attractive set of companies in their portfolio with several successful exits [which] automatically attracted me in a bid to also take our business through the same route.
MEST: Why is pan-African expansion the key to your company's success?
Wayawaya: With WayaWaya we have seen the need to expand based on customer requirements and demands (both individuals and businesses). We address inefficiencies in the rapid growth developing market, banking, transfers and payment eco-systems, which then means it makes sense to expand to as many territories and markets as our capacity allows.
MEST: What is next for Wayawaya?
Wayawaya: Transforming the years of growth, lessons and development into better services for many more customers across Africa and the African/Asian Diaspora. We are working to ensure we are one of the organizations at the forefront of transformational financial and payments services built for 21st century users, and [hope] to make these services available across mobile phones, social media, instant messengers or connected to traditional financial systems.
MEST Africa looks forward to welcoming Wayawaya to our portfolio and seeing what they go on to do!
https://meltwater.org/wp-content/uploads/2019/07/mest_africa_summit_ke_2019_day_2-206.660x0-is.jpg
440
660
Leila Khalid
https://meltwater.org/wp-content/uploads/2021/03/logo-mest-color-2.png
Leila Khalid
2019-07-05 20:38:19
2021-08-26 20:52:22
Kenyan fintech startup WayaWaya one of three to win $50k at the MEST Africa Summit 2019